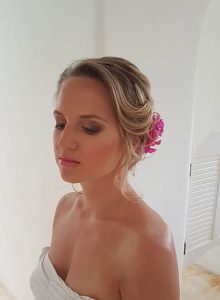 Doranna was recommended by my Wedding planner for our symbolic ceremony in Riviera Maya. It was the first time for me that I had professional make up, and of course I was very excited. Doranna did both, my hair and make-up. Although we had plenty of time, she came even half an hour earlier to discuss the styles.
As I was a bit nervous, she gave me immediately confidence through her warm and open-minded personality – it was a super relayed atmosphere. While doing make-up and hair we had a really nice conversation and after a short while it felt like I was taking with a good friend of mine.
She created for me the styles I liked but also followed her own inspiration, which I found really professional. The color for my lips, cute pink, I would have never chosen, but she did for me and it looked awesome. The whole look was amazing – I have never been that beautiful and still I am looking at the photos and can't believe how pretty I can be.
It might not surprise you that I highly recommend her! It is not only her professional work I admired, but also the attention to me as a women, bride and customer before and after (!) this big day. Also her assistant, Crystal, did an incredible job, answered all questions I had and helped me with everything I came up with.
Thumbs up!! Don't look further, you won't find a better stylist than Doranna!
Margarita, it was a pleasure for us too! You were amazing to work with and your destination wedding here in the Riviera Maya suited you perfectly! It was an honor to do your bridal hair and makeup and you did look stunning! Don't be surprised at how beautiful you looked because I just enhanced what you are! Enjoy your new married life and, hopefully, our paths will cross again sometime soon!