Invitations are exciting and very important because they are what sets your big day into motion.  The theme hints to guests what the ambiance of the event will be.  Most brides want their invitations to be elegant but unique.  We looked to the experts at Elegant Wedding Invites for their take on next year's trends for inviting your guest list.
GREENERY
This year is back to nature and natural designs.  Plant-based themes with leaves and branches will accent invitations.  These are great to announce outdoor weddings!  For your destination wedding in the Riviera Maya, use palms type plant impressions.
WATERCOLOR
Bringing back softness and romance, watercolor invitations will give that feeling of "aw".  These you can do yourself if you have the creative gene.  Invitations such as these set the pace for a creative and unique wedding.  For a Mexican Caribbean wedding, watercolor captures the essence of the beach and sunrises.
CALLIGRAPHY
This not-so-new style can also be done by brides who are more creative and would like to put their own energy into their planning.  Calligraphy styles can be combined with the other trends for invitations.  There are so many styles, you may choose to pick one for use in a combination with one of the other themes.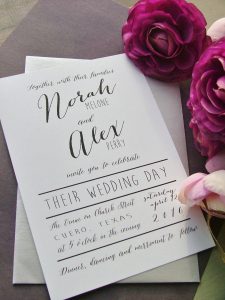 RUSTIC TAGS
For those couples having a rustic themed wedding, using wooden tags, lace band and burlap to tie up your cards will be the first choice.  For a Riviera Maya beach wedding, you could choose to use coconut accents or fibers from a palm tree; shells are also a beautiful touch.
Invitations are like the first look for your wedding so be sure to pick something that sets the tone for your theme.  It is important that it is dramatic but stylish and lays the foundation for your theme on your big day.  Remember to choose a great destination wedding, such as Playa del Carmen in the Riviera Maya and contact me, Doranna, for hair and make up to make your big day a whimsical adventure!
Thank you to elegantweddinginvites.com for their insights into 2017 invitations.