Spring/Summer 2017
The trend for 2017 is a bit more on the sexy side.  Deep plunging necklines are an excellent accessory to your Caribbean destination wedding look.  The styles for the spring are a bit more daring but work well for your Playa del Carmen wedding.  These skin-baring designs are great for beach weddings and allow for the bride to be more comfortable but still elegant in the tropical climate.
Off the shoulder looks will let your sun-kissed shoulders shimmer down the aisle.  The style ranges from simple to more ornate.  Smooth satin keeps it elegant while texture and lace can add some attitude.  Lengths vary with some starting out shorter in the front and lengthening in the back.  Bows are big and plentiful for your spring look.  And if you want to play with faint color, pastel accents can accompany you down to meet your groom, as well.
Fall/Winter 2017
Fall and winter designs are bold, as well, but with textures, feathers, and tiers.  Off the shoulder still floods this season but with fitted sleeves.  Skirts will range from fitted to ruffles which will accent the sea waves for your Riviera Maya wedding.  Some of this season's details reflect Mexico and my home!  Ruffles, fringe, and embroidery have their roots in the Flamenco style.  These are perfect for your Mexican Caribbean event where you can even dance to an authentic Mariachi band!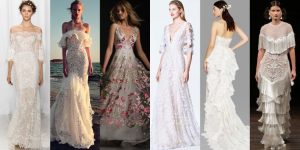 Materials used will be more frothy, again like the ocean's waves, like tulle.  The tiered skirts will flow well in the gentle Caribbean breezes.  Beading will reflect the sunlight or moonlight on the beach for an outdoor wedding.  Even Mod fashion lengths, "Twiggy Style", will be acceptable for the fall fashion, which, too, are perfect for your tropical ceremony.
No matter what season or design you decide on, a Riviera Maya Mexican destination wedding is perfect.  The same reasons I fell in love with the area and adopted it as my home could be the reasons why you decide to have your ceremony here.  Built in natural backdrops of blue skies and turquoise waters and well as sea breezes and  a symphony of waves to gently transport you into your new happy whimsical fairytale.
Contact me and my team for your very special hair and makeup looks to go with that perfect dress!
Doranna De Bortoli & Team