The big day has arrived.  It's been months or maybe even a year or more in the planning.  Piece by piece it has fallen together all for this one epic day!  Your appearance and "wow factor" as you walk down that aisle and everyone sees you for the first time is probably a main focus for you now.  Here are some simple tips to make your hair styling session flow that much easier for you, your party and your stylist.

The few weeks before your arrival, it is always a good idea to a trim, as well as, a moisturizing treatment.  This will assure you to have shiny locks for your Big Day. If you have not already discussed what style you want, bring a photo.  All of this may have occurred earlier in the process.  Many stylists, such as Doranna, have galleries on their sites so you can peruse their previous satisfied brides' styles to get an idea of what you want for your day.  Maybe you already knew and had sent photos along the process and she will have them in your file.  But if this has not happened it is always good to bring a photo because that is clearer than explaining in the last moment.  This is also a good idea for your makeup.

It is important to arrive to your appointment with hair ready to go. This will all depend on your wedding festivities schedule.  It is best to wash your hair the night before if you do not have a party or rehearsal dinner.  If your dinner is inside, it is ok to leave your hair unwashed for the next day's service.  If your dinner or party is outside on the beach, however, you will want to wash it that night or early in the morning. It is important not to have any styling products or leave in conditioners in your hair.  Any oils or gels or mousses can create problems for the stylist or delays.  No one wants to experience those on their wedding day. Also arrive to your styling location with dry hair.  This will also make the appointment flow smoother and allow your stylist to do his/her magic effortlessly.
For makeup there are a few things you can do in the week or weeks prior to arriving to your destination.  One is to get a deep cleansing facial seven to ten days prior to leaving to  your location.  This will allow you to arrive with more luminous skin but with no redness.   Another key is a few weeks before and especially when you arrive to the Riviera Maya that you use a sun block with a high SPF factor.  The sun here is stronger and you do not want to have a burn or redness for your wedding day.  And on the day just arrive with freshly cleansed skin.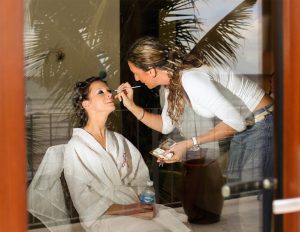 Another key to a smooth pre-wedding styling session is to make sure your bridesmaids, party, and mothers, anyone who maybe partaking in styling services, also know the above tips.  The more people who come readily prepared the better.  This avoids pre-ceremony delays and allows for a more relaxed pre-wedding environment.
Be sure to check out Doranna's gallery here
https://dorannahairstylist.com/updo-curls.html
https://dorannahairstylist.com/updo-straight-hair.html
https://dorannahairstylist.com/messy-chick.html
https://dorannahairstylist.com/long-looks.html
https://dorannahairstylist.com/bridal-party.html
Coconuts and Palm Trees!
Doranna & Team <3